Romaan Digest August 2018
Romaan Digest August 2018
Read And Download Romaan Digest August 2018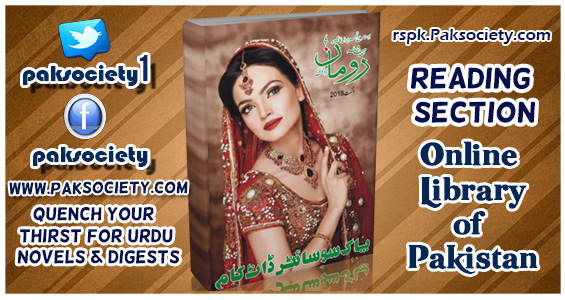 Romaan Digest August 2018
August 2018 Edition of Romaan Digest is now available to read on line or download.
Romaan Digest contains novels, Afsans and episodic novels from new ans well known writers, we hope it will be a good edition in the field of digests.
We are glad to announce that we are officially uploading this Magazine.
This urdu pdf book is available to download in free pdf book form.
Summary of Augus 2018 edition is as under
Silsle War Novel:-
Insaniyat Episode 01 by Alaya Rajpoot
Tuje Chand Bank Kay Mila Tha Jo Episode 01 by Ayesha Jabeen
Afsaane:-
Mohabbat Dard Ki Soorat By Sameen Chaudhary
Madad By Hadia Amjad
Aik Larki Dewaani Sii By Komal Ahmad
Be Had By Faryal Khan
Okhe Pende By Zarnaab Ali
Madiha Mi Man Maniyan By Saleha Mansoori
Effat Ki Pasban By Raiha Maryiam
Mukhtasir Tehreeren:-
Aksar Bhool Jati Hoon By Jana Mubeen
Waqia By Umme ALi
Maah Jabeen By Fehmeeda Naaz
Mushtaq Ahmad Yusafi By Hadia Amjad
This page will show images as you read, means when you will open next page it will open it for you to save your bandwidth and money.
This urdu pdf book is available to download in free pdf book form.
Important Note Before Reading:-
Kindly Use Zoom in and zoom out buttons to adjust your image size, if you will zoom in/out after loading of images, page will load images again from start so you will have to wait 2 times in this case.If Zoom in and zoom out buttons are not present below but 'three horizontal bars' are showing instead, Click on them, a new menu will open, click on 'settings' and you will find Zoom option there.
Advertisement:-
Cant read it Online???
Facing Difficulties in reading from above preview??
Click here
to read it on Google's Fast Servers.