Romaan Digest October 2018
Romaan Digest October 2018
Read And Download Romaan Digest October 2018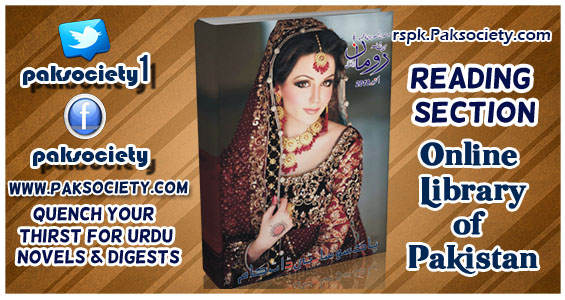 Romaan Digest October 2018
October 2018 Edition of Romaan Digest is now available to read on line or download.
Romaan Digest contains novels, Afsans and episodic novels from new ans well known writers, we hope it will be a good edition in the field of digests.
We are glad to announce that we are officially uploading this Magazine.
This urdu pdf book is available to download in free pdf book form.
Summary of October 2018 edition is as under
Silsle War Novel:-
Insaniyat Episode 02 by Alaya Rajpoot

no

Main Muqtadai Muhabbat Hoon Episode 1 By Luba Hafeez

no

Tuje Chand Bank Kay Mila Tha Jo Episode 03 by Ayesha Jabeen
Ab Kai Hijar Ho Chuke Episode 2 By Kinza Zafar
Afsaane:-
Thandi Handi By H K Swati
Ham Se He Chaman By Hadi Khan
Zara Sii Sharart By Komal Ahmad
Dosti By Warda Makawi
Shagufta Seerat By Naeem Akhtar Rubbani
Ahsas By Khalid Jaan
Main Bhi To Pukara Jauga By Samar Mughal
Effat Ki Pasbaan By Raeha Marryiam
Mukhtasir Tehreeren:-
Social Media Aur Production By Anabia Rehman
Payare Nabi ki Payari Baateen By Haadia Amjad
Taameer E Pakistan By Masooma Irshad Solangi
Adhoori Muhabbat By Atika Jaffari
Hisaar By Shen Meem Danish
Dil Murda Dil Nai He By Umme Sahban
Dhun Ka Paka HawaBaaz By Ibn E Riaz
Azeem Quam Ki Azeem Foj By Saaen Sulman
Mera Janoon By Waqas Moeen
Jan Nisaran E Watan By Rakhshi Qesrani
Umeed E Sehar By Umeeed E Sehar
Kab Bhooli Jati Hen Qurbanian By Aamna Ghafoor
Jihaad By M Shahid Iqbal
Sazshi By Mubarak Khan
And Ghazalen, Nazmee Plus other regular segments
This page will show images as you read, means when you will open next page it will open it for you to save your bandwidth and money.
This urdu pdf book is available to download in free pdf book form.
Important Note Before Reading:-
Kindly Use Zoom in and zoom out buttons to adjust your image size, if you will zoom in/out after loading of images, page will load images again from start so you will have to wait 2 times in this case.If Zoom in and zoom out buttons are not present below but 'three horizontal bars' are showing instead, Click on them, a new menu will open, click on 'settings' and you will find Zoom option there.
Advertisement:-
Cant read it Online???
Facing Difficulties in reading from above preview??
Click here
to read it on Google's Fast Servers.