Jahanum Kay Sodagar Episode 15 By Muhammad Jabran
Jahanum Kay Sodagar Episode 15 Jahanum Ka Devta By Muhammad Jabran
Read Online Jahanum Kay Sodagar Episode 15 By Muhammad Jabran M Phil Scholar Specially written for Paksociety readers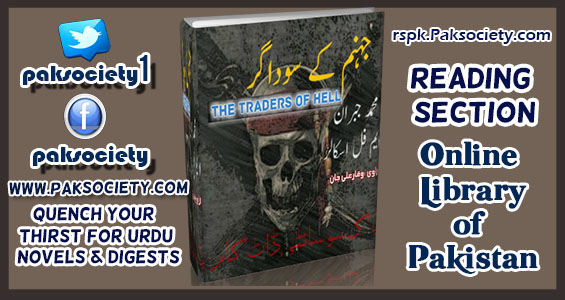 Jahanum Kay Sodagar Episode 15 By Muhammad Jabran
Jahanum Kay Sodagar Episode 15 Jahanum Ka Devta By Muhammad Jabran
Read Online Jahanum Kay Sodagar Episode 15 By Muhammad Jabran Specially written for Paksociety readers
Muhammad Jabran is a new writer, Paksociety is proud to publish his Action Novel "Jahanum Kay Sodagar Episode 15" online.
Request:-
Kindly Give us your Opinion using facebook comments or website comments. We will try to respond to each and every comment.
This E Book Is Available in HD Quality with least possible size, kindly do comment to tell us how we are doing
Jahanum Kay Sodagar (The Traders of Hell) is a Crime, Suspense, Mystery, Adventure, Thriller novel written by Muhammad Jabran was actually inspired by true events and a narration of Waqar Ali Jaan who was a Pakistani spy on a secret and the deadliest mission of his life. Converted Jew with a name of David, whom once he killed during a mission of Shadow laboratory. He was sent by Pakistani Secret intelligence to unfold all the mysteries behind 9/11 and exposed the hidden agenda of devil worshipers. It's a mixture of true events with fiction, fake names and organizations.
This urdu pdf book is available to download in free pdf book form.
Important Note Before Reading:-
Kindly Use Zoom in and zoom out buttons to adjust your image size, if you will zoom in/out after loading of images, page will load images again from start so you will have to wait 2 times in this case.If Zoom in and zoom out buttons are not present below but 'three horizontal bars' are showing instead, Click on them, a new menu will open, click on 'settings' and you will find Zoom option there.
Advertisement:-