Bay Rang Piya Episode 1 By Amjad Javed
Read And Download Bay Rang Piya Episode 1 By Amjad Javed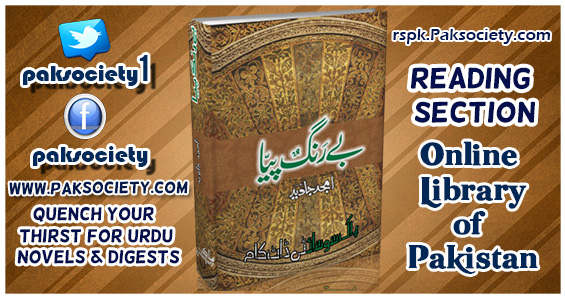 Bay Rang Piya Episode 1 By Amjad Javed
Amjad Javaid is not a new name for novel lovers, We are proud to present to you his new novel in episodic form,
"Bay Rang Piya" is base on the concept of "Ishaq". Ishaq which brings you close to ALlah, which brings you close to Prophet Muhammad (SAW), This novel also has touch of Tausaf and SufiIzm, Hope this will fulfill your quench for a good novel.
This urdu pdf book is available to download in free pdf book form.
Important Note Before Reading:-
Kindly Use Zoom in and zoom out buttons to adjust your image size, if you will zoom in/out after loading of images, page will load images again from start so you will have to wait 2 times in this case.If Zoom in and zoom out buttons are not present below but 'three horizontal bars' are showing instead, Click on them, a new menu will open, click on 'settings' and you will find Zoom option there.
Advertisement:-
Cant read it Online???
Facing Difficulties in reading from above preview??
Click here
to read it on Google's Fast Servers.