#Suspense_Digest #September_2017 #Paksociety
Suspense Digest September 2017
Suspense September 2017
Read And Download Suspense Digest September 2017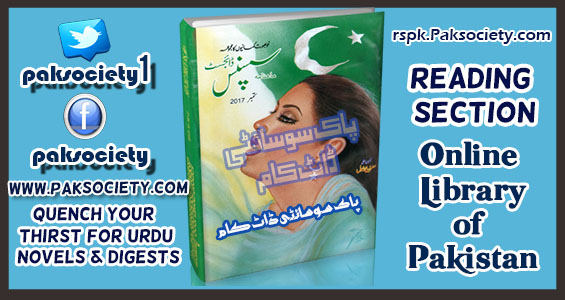 Suspense Digest September 2017
A request to members residing in Pakistan:
Support writers and Digest by purchasing them and reading them, This Facility is for overseas Pakistanis.
Short Summary of September 2017 Edition is as follow:-
Waqt By Hassam Butt Episode 06
Baghi By Muhammad Tahir Umair Episode 02
Sanjh By ALi AKhtar
Adhoora Khawab By Tanveer Akhtar
Chotha Darwesh By Manzar Imam
Makafat By Dr Sher Sha Syed
Be Zameer By Samar Abbas
Umeedwaar By Mirza Amjad Baig
Bazar E Hssan By Muhammad Ilyas
Dehshat Zada By Shah Zain Rizwan
Artisit By Saleem Anwar
Ghalti By Aitzaz Saleem
Haqdaar By Amna Zia
Sawang By Jamal Dasti
Zara Cii Baat By Naheed Sultana Akhtar
This page will show images as you read, means when you will open next page it will open it for you to save your bandwidth and money.
This urdu pdf book is available to download in free pdf book form.
Advertisement:-